Nautor Swan (FINLAND)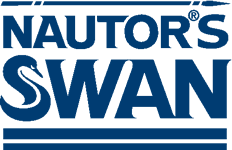 Contry: FINLAND
Address: PO Box 10
68601 Pietarsaari
Finland

Phone: +358 6 760 1111
Oy Nautor Ab was founded in Finland in 1966 by Pekka Koskenkyla.
Koskenkyla's intention was to build the first 10m yacht capable of both cruising and racing, using a fibre glass mould.

At the heart of his concept was quality, the core focus of Nautor's production process throughout its history. Series production was considered key to the success of the venture and precise, logistical organisation was paramount at an early stage.
Today the expansive Swan portfolio charts the journey that Nautor has travelled, from the inaugural Swan 36 to the ambitious 131.

Nautor▓s Swan yachts are considered the ultimate ocean-going, performance, luxury sailing yacht of unrivalled build quality.

The future continues to look bright as Nautor justifies its position at the top of the ladder both for pure luxury and for revolutionary technology with the opening of a new, hi-tech boatyard.