C.B.I. Navi SpA (ITALY)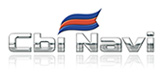 Contry: ITALY
Address: Via Giannessi 55049 Viareggio
Phone: +39 0584 38191
CBI Navi was founded in Viareggio in 1984, as a metal boat builder.

In 2005 CBI Navi was acquired by the Fipa group and began the production of metal-hulled yachts up to 70 metres, satisfying the demands of an ever more numerous and demanding clientele. In addition, the CBI Navi shipyard offers the group a valuable new production area at the Viareggio Darsena

CBI Navi has contributed significantly to enriching the range of large and customized yachts worldwide.